Fire Island primarily consists of mom-and-pop real estate shops. Why did you choose to align yourself with BHS?  
Fire Island has a history of being an international destination with a small-town feel; working with BHS will allow me to fully realize the value in these currently undervalued properties while providing clients with a level of service and professionalism that is currently lacking. The time is right to bring Fire Island into the modern-day real estate world. That being said, I look forward to working with smaller operations, as some of them are friends and neighbors of mine.
---
What opportunity does BHS have to gain market share on the island?
We will be the first major agency to put a real focus on the area. The level of service we will provide hasn't been seen here yet. We will also have the opportunity to introduce our clientele to the area—it is amazing how many people in NYC have never been to Fire Island.
---
For someone considering a second home on Fire Island, tell us why it's a great option.
First, you are living in a national park: the Fire Island National Seashore. What could be more beautiful? There's also the laid-back lifestyle, with every home a short walk from the beach. The price point versus proximity to the beach is unreal. Also, investment value. Even though prices have risen since the pandemic, I believe there is a lot more room to grow. There are few places left with proximity to NYC where the expenses for the year can potentially be covered with a few months of rental—the returns here can be pretty spectacular with a properly managed property, and many people rent their homes and use those proceeds to fund travel to other areas. Finally, there are very affordable co-ops in some towns for those who can't or prefer not to be responsible for a house.
---
Where do you see the Fire Island market headed over the remainder of 2022?
Inventory is tight, which will continue to push prices higher. More people who are buying are using their homes rather than renting them, which will keep the rental market tight as well.
---
Is it true cars are not allowed on Fire Island? Explain.
True. When the National Seashore was created, it was mandated that Fire Island be roadless to keep the area pristine. Emergency and service vehicles are allowed, and full-time residents may get a permit to drive their cars on the beach in the winter to enter/exit at Robert Moses. While this is a "negative" for some people, having a car-free neighborhood allows for a level of relaxation that just isn't possible elsewhere.
---
Share your favorite dining spot on Fire Island and tell us why you love it.
For me, Fire Island is all about dinner at home with friends or at the homes of friends. Everywhere in each town is walking distance, and no cars means no concerns. That being said, and depending on the town, it's pretty great having a cocktail or meal on the deck of the establishments overlooking the Great South Bay at sunset.
---
Tell us something interesting about you that few would know.
I have never been a performer or artist, but it seems all of my friends are, whether they are jazz musicians, actors, or painters. We have always just gotten along and I work well with them; they trust me because I understand their work. Many of my first commissions 20+ years ago went right back into buying a work from the artist I had just sold a house to. Also, I've lived in Germany and in Brazil and love to spend time outside the country.
---
Choose a photo from your camera roll that is meaningful to you. Tell us about it.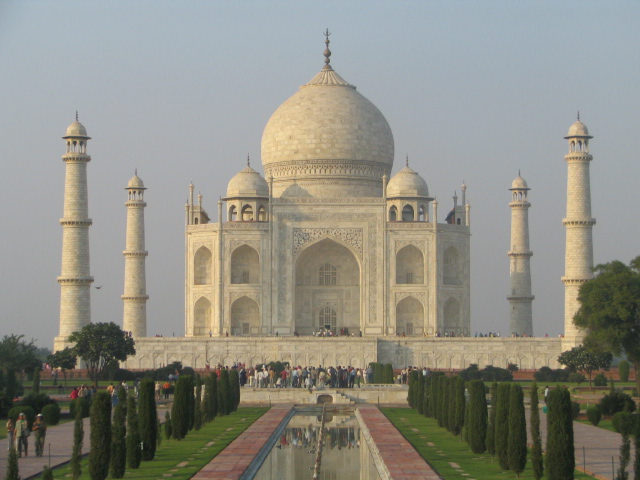 On this trip to India many years ago—and specifically the Taj Mahal—sitting on the terrace there, I was overcome with a stillness and peace to be next to such a work of unimaginable beauty and perfection. In my opinion, it is the most beautiful thing ever made by humans.
---
Connect with Glenn:
@glennrice_ on Instagram